As a man, we all face a situation, where choosing the right clothes for your body shape is a headache.
Whether we are going to the office or a party the biggest question is how to choose the perfect clothes.
Even we become confused while buying something and countless options make it difficult for us.
Don't worry, finding the right clothes for the body shape is not a rocket science.
Here we mention everything that will help you to find the answer about how to choose the right clothes for your body shape.
The Right Clothes For Your Body Shape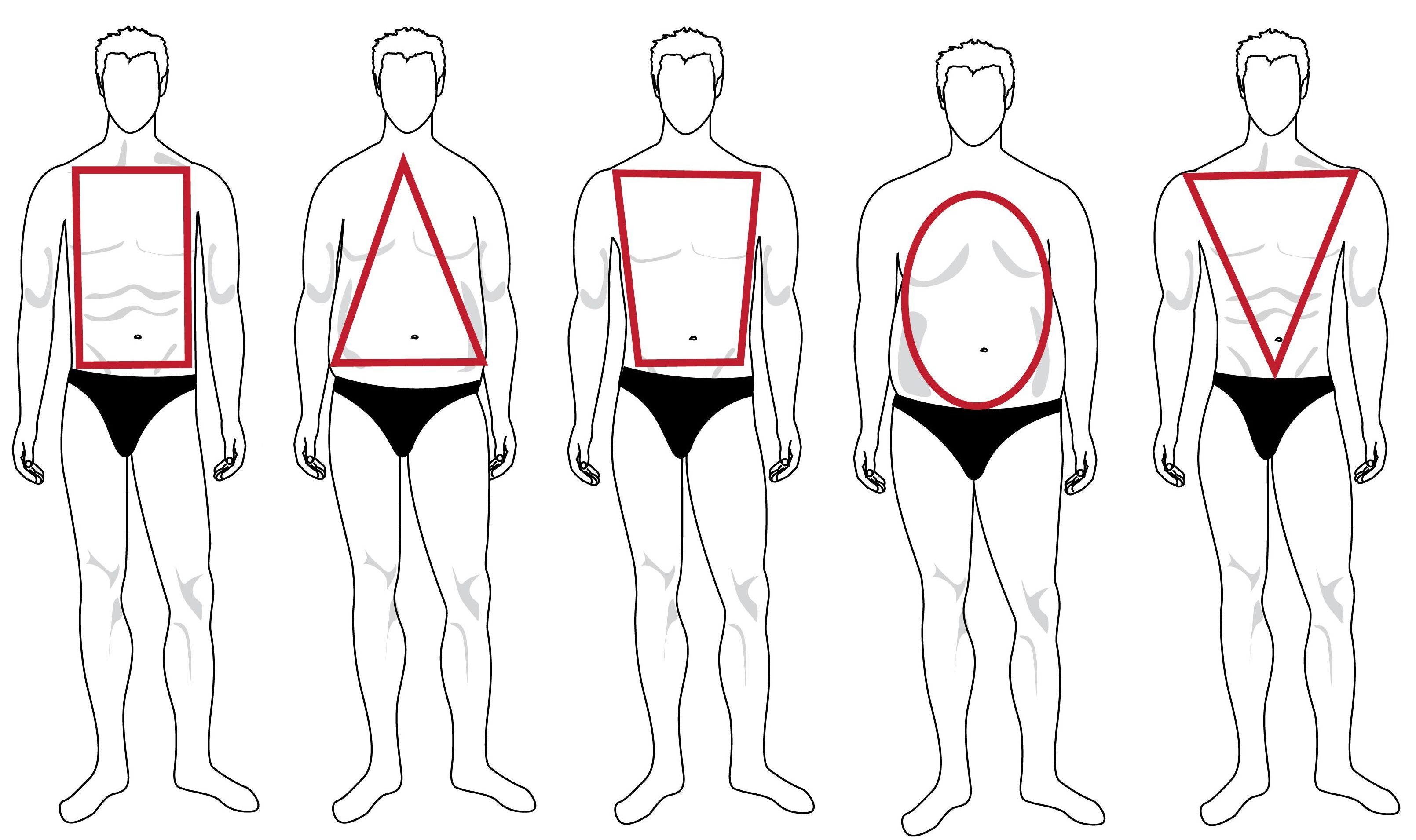 The biggest problem for choosing clothes for your body happens due to the fitting size.
But before that, you need to answer the question, how to determine body shape.
Don't worry, we are going to answer below about how to figure out what shape your body is
Often people are confused about their body size just like face shape, and in fact, most of them don't have an idea.
Generally, there are five types of body
Oval
Triangle
Rectangle
Inverted Triangle
Rhomboid
Trapezoid
What is an Oval body shape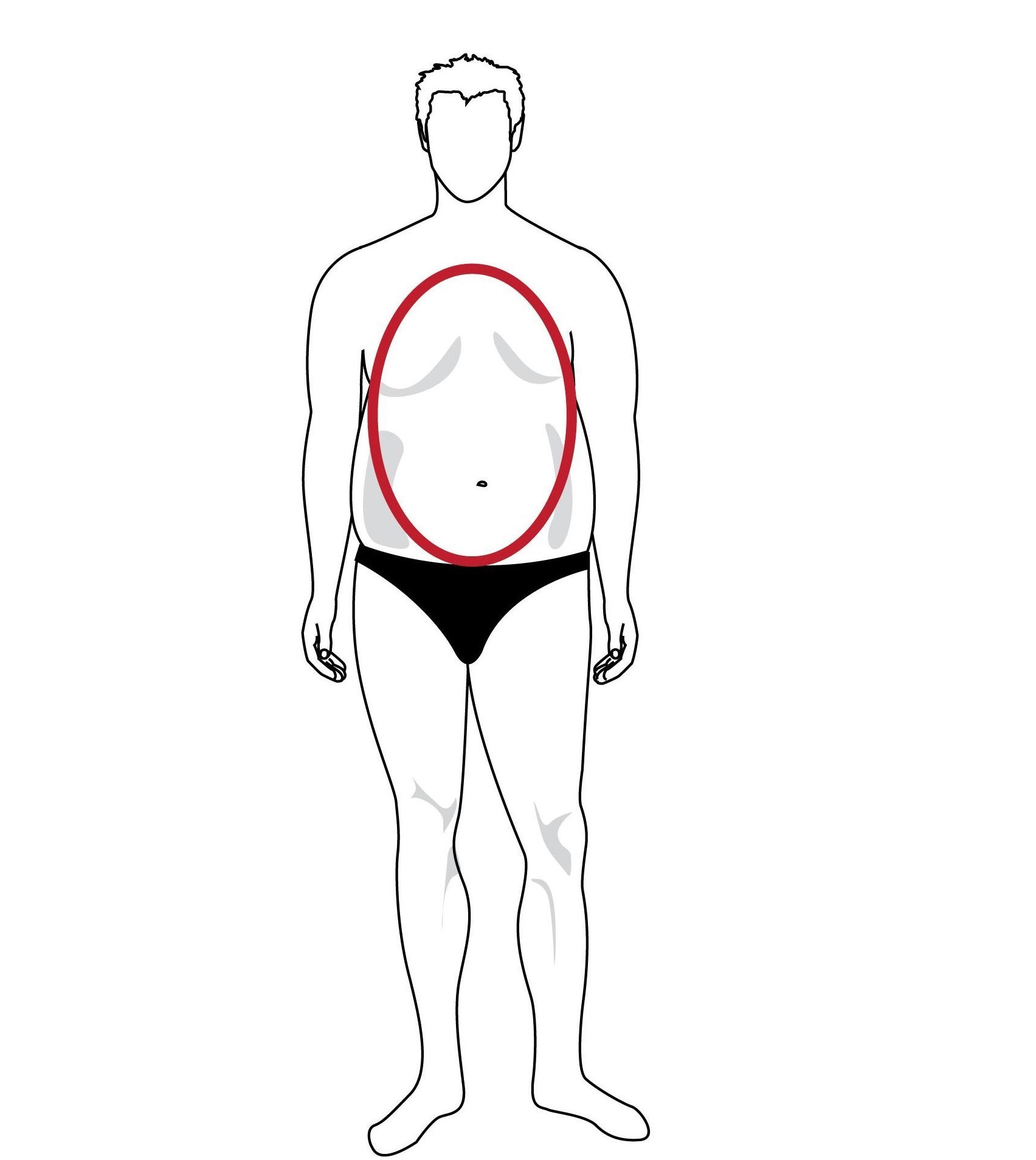 The oval body shape is also known as apple body shape.
Excess weight stored in the upper part of the body
Stomach is rounded
Legs are slim in comparison with upper body
Upper arms are large
Clothes for oval body shape
Though a common body type, still, dresses for apple shape body is a little bit tricky because you can't try something that should fit with your body completely.
Else you will end up showing your large stomach which you never want.
At the same time, you can't try anything large size as you will look bigger.
T-shirts for oval shape body
Avoid turtle neck
Avoid t-shirt with large busy prints
Long sleeve V neck shaped t-shirts are better
Use t-shirt with small prints
Shirts for oval shape body
Before choosing a shirt, consider your neck size and arm length
Always wear a full fitting shirt
Shirt and pants color should be the same else your middle part of the body will get more attention
Use dark colors and soft fabrics
Trousers for oval shape body
Avoid trousers that are made in heavy fabrics
Trouser cut should not be too tight
Use flat front trousers
Fit should be slightly loose
Suits for oval shape body
Use dark colors (navy blue or black)
Try light, soft fabric, and opt for a fitted suit
If you want a jacket for your suit, consider a jacket with two buttons
What is a Triangle body shape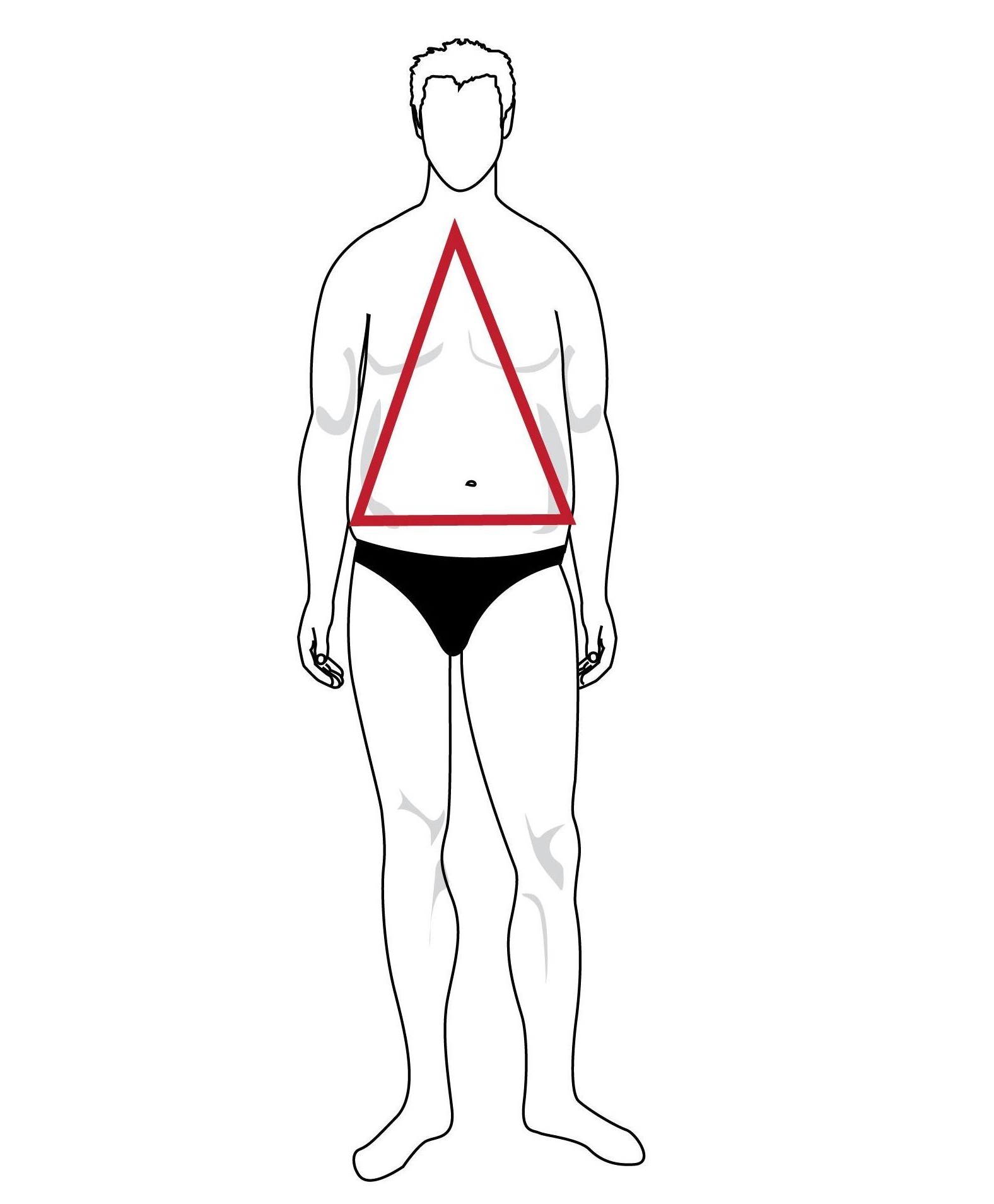 Narrow chest
The lower part is heavier than the top
Sloping shoulder line
Clothes for triangle body shape
When we are talking about body shape, triangle-shaped men are the lucky ones because they can easily lose weight to wear their favorite clothes.
Due to the larger hips; clothing styles for men who have triangular body shape should be in a way where the attention will be on the upper body.
T-Shirt for triangle body shape
Use loosely fitted but not baggy
Choose lighter color
Prints will be fine
Don't wear t-shirts that are too tight
Shirts for triangle body shape
Wear shirts that add bulk to your upper part
Try a light color shirt
Buy a shirt which has a medium spread collar or a standard straight point collar
Trousers for triangle body shape
Wear a loosely fitting trouser
Try dark color trouser
Don't wear trousers that have pleats and fullness around the lower legs
Suits for triangle body shape
Try jackets with extra-large shoulder and narrow-body cuts
Focus on bulking up the upper part of the body
What is a Rectangular body shape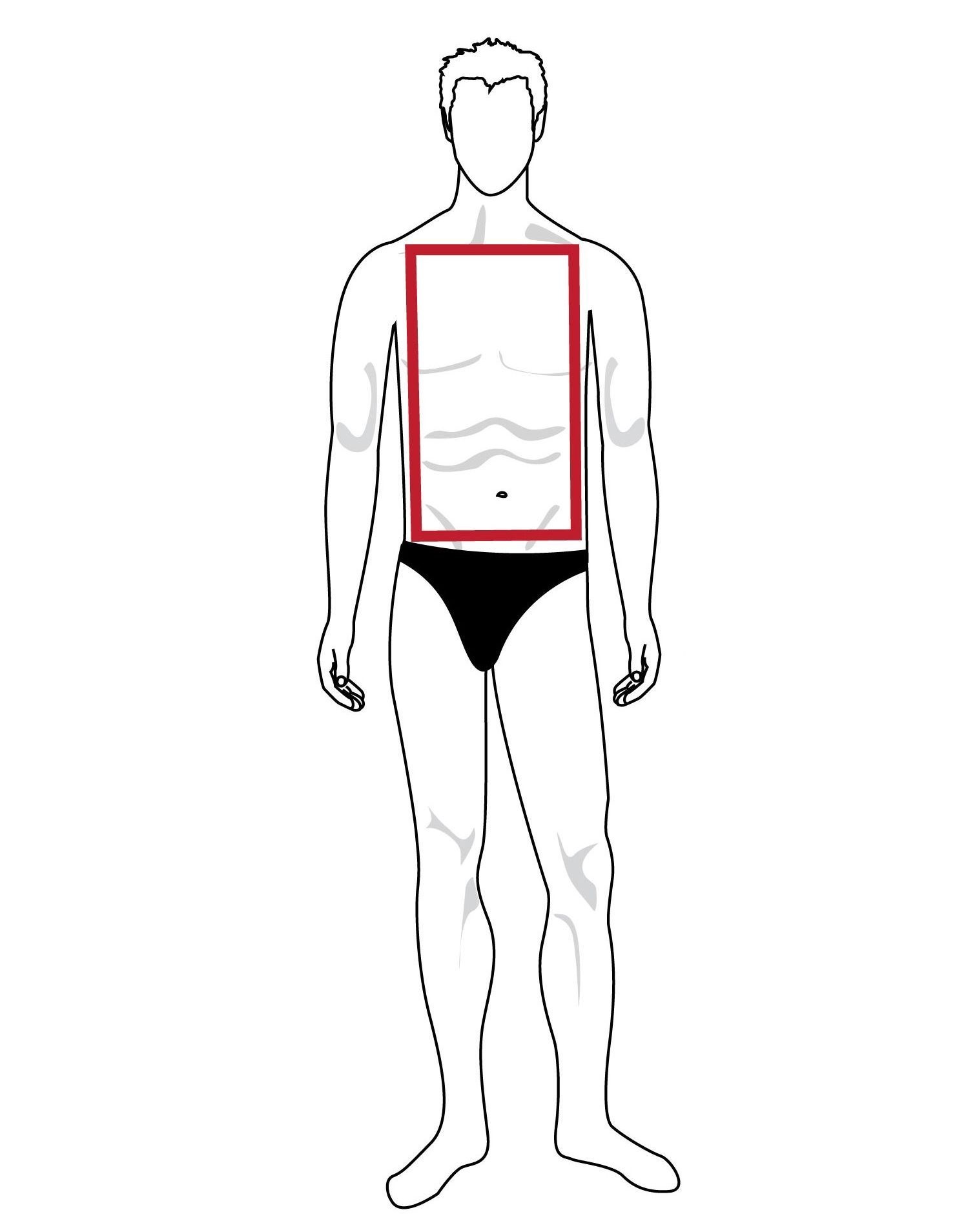 Rectangular body shape has the same length of chest, hips, and waist and the torso is flat.
Dresses for rectangle body shape
If you have a rectangle body shape and want to follow the latest fashion style for men; consider the following tips
Make sure that your shoulder is looking a little broader
Try semi-fitted clothes
Avoid baggy clothes
T-shirt for rectangle body shape
Use high neck t-shirt
Always wear light color
Don't wear darker color t-shirts
Avoid baggy t-shirts
Shirts for rectangle body shape
Use light color shirts
Make sure your upper part will look large
Buy shirts that have pockets
Choose shirts that have wider collar points
You can consider horizontal stripes
Printed shirts will be a good choice
Avoid vertical stripes
Trousers for rectangle body shape
Make sure that trousers are closely fitted around the waist
Lower parts should be loose but don't overdo it
Wear slightly baggy trousers
Avoid tight fitted trousers
Don't wear baggy trousers
Avoid trousers with a waistline above the original waist
Suits for rectangle body shape
Wear a suit that has as many as pockets
A traditional British suit is better
While you buy, consider a two-button blazer
What is an Inverted triangle body shape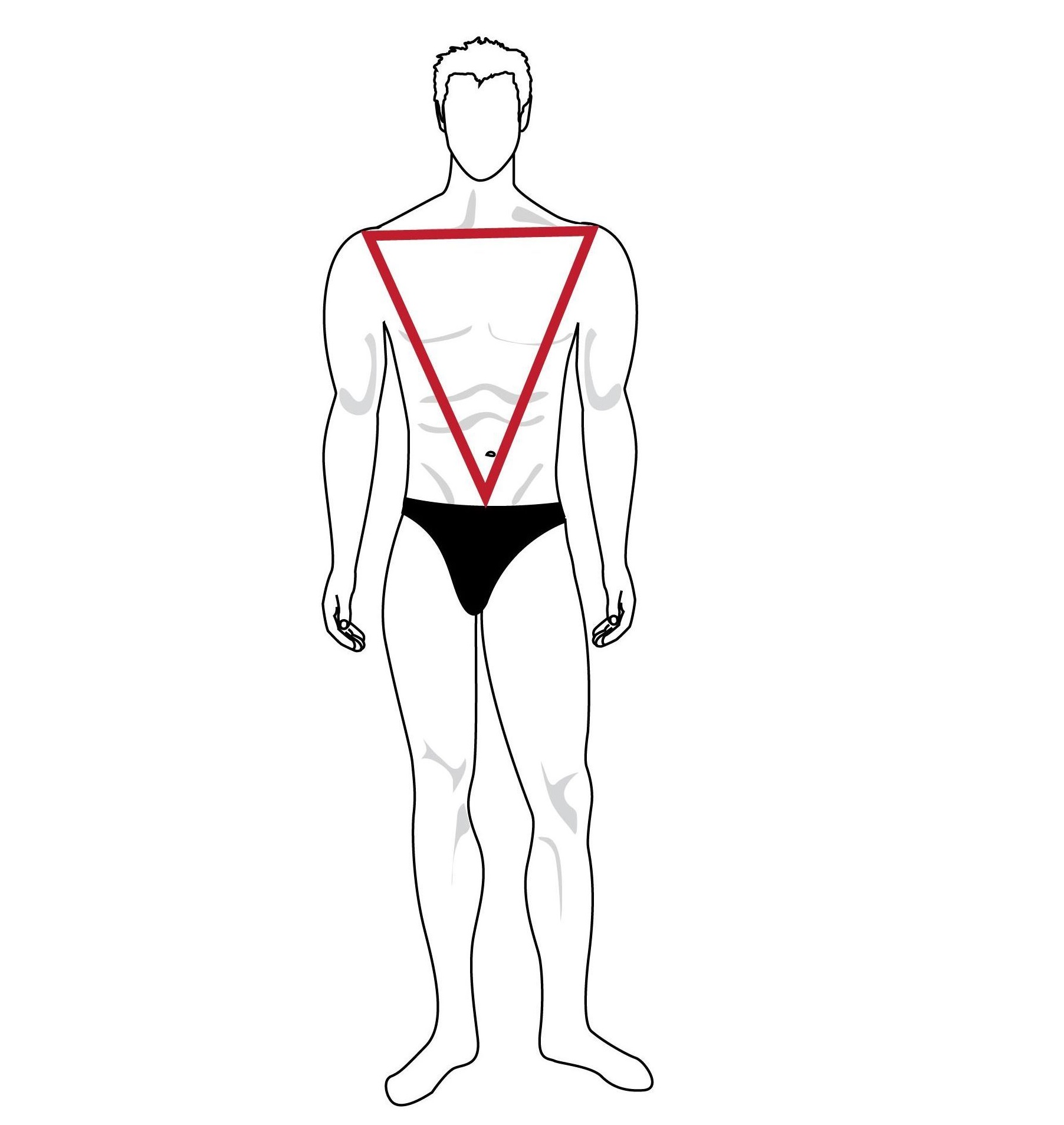 It's the rarest body shape and few lucky people have this shape.
The upper part is broader and has excess muscle
Its shape is narrower from top to bottom
Shoulder, chest, and arms are large
The upper part is large and the lower part is narrow
Clothes for Inverted triangle body shape
You don't have to give extra preference to any part, and all you need to make a balance between both upper and lower parts.
Here are some dressing tips for men having inverted triangle body shapes
T-shirt for Inverted triangle body shape
Choose well-fitted t-shirts
Tank tops are best to show your large shoulder
Wear dark color t-shirts
Avoid light color and large prints t-shirts
Avoid V-neck t-shirts
Shirts for Inverted triangle body shape
Choose dark color
You can go for both horizontal and vertical stripe
While choosing a shirt, minimize the top half of the collar
Avoid shirts that add bulk in your shoulder area
Trouser for Inverted triangle body shape
Cargo pant is a good option when it comes to trousers due to the large size of pockets
Choose trousers with pleats
For formal trousers, pinstripe is good
Chinos are the best options
Suit for Inverted triangle body shape
Choose jackets that are minimal shoulder padding
A slightly large suit will be a good option
What is a Rhomboid body shape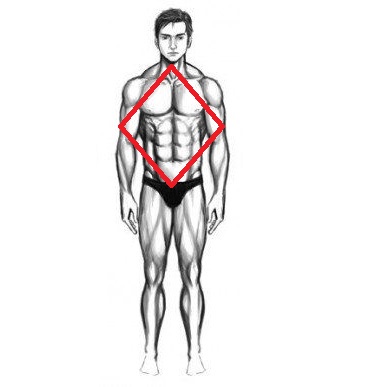 It is the most desired body shape for men because of its solid upper part, lower part is narrow, and broad chest and shoulder.
Clothes for Rhomboid body shape
Finding clothing style for men having rhomboid body shapes is not difficult if they put a little bit of effort.
Here is how to find the best outfits for men
T-shirt for Rhomboid body shape
Fitting should be your priority
Polo will be a good choice
Try stripes and boldly patterned outfits
Avoid V-Neck t-shirt
Shirt for Rhomboid body shape
Choose fitting shirt
If your height is short, go for vertical stripes
Checked shirts are good for tall people
Avoid baggy clothes
Don't wear anything loose around your waist
Trousers for Rhomboid body shape
Use dark color if you are wearing a light color shirt
Make sure that your trousers meet with your ankle and shoes
Don't wear tight trousers
Avoid wearing much below the waist
Suits for Rhomboid body shape
If you want to buy a suit, go for black color
In case you choose bowtie, make sure it fits evenly
Button up the shirt up to the neck
Make sure it fits properly
Avoid tie clip
What is Trapezoid body shape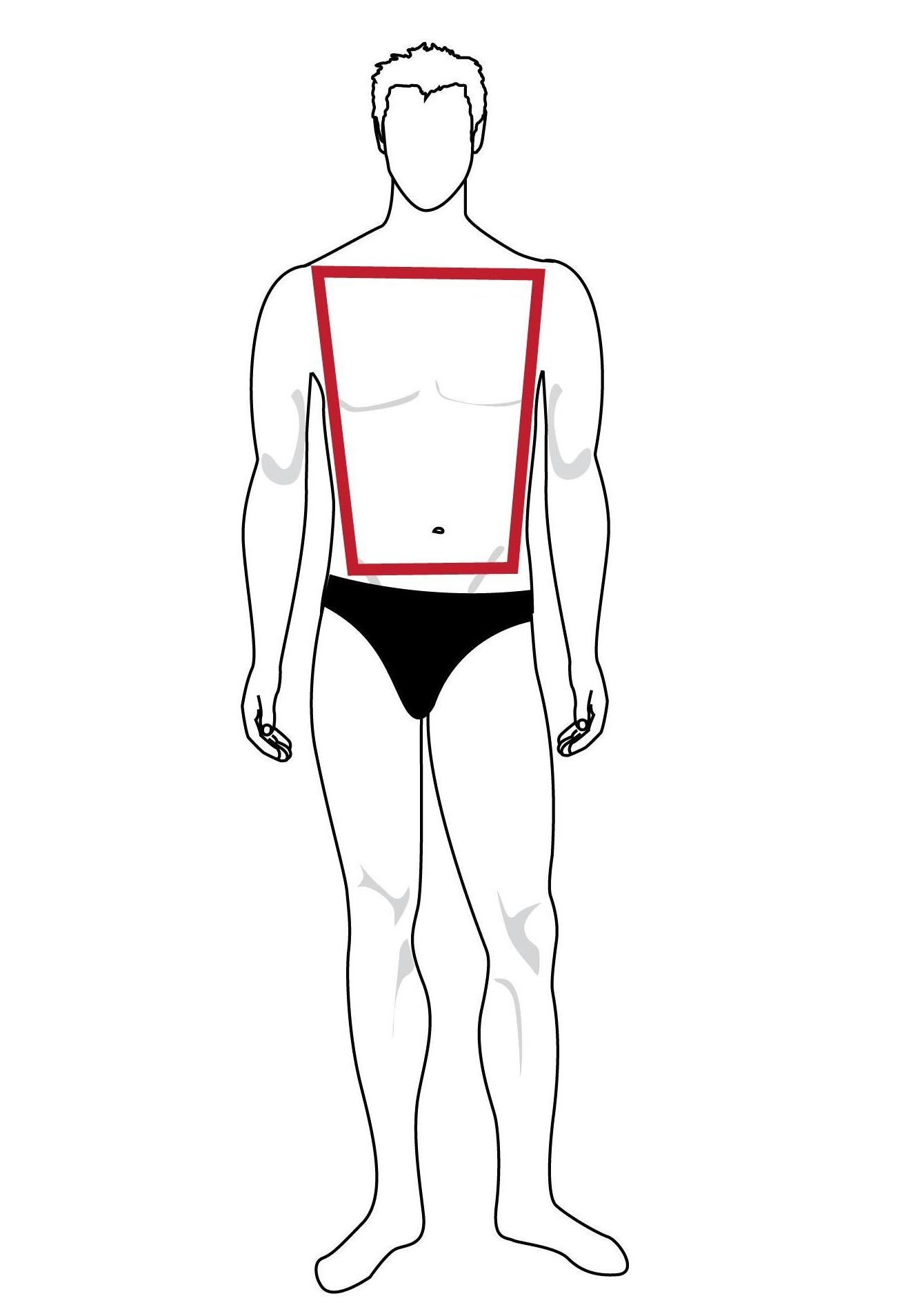 If you are a fan of Paul Walker, and at the same time, you have bulky arms, broad shoulder and narrow hips; congratulations! you both have trapezoid body shapes.
One more good news is you can choose the best outfits for men as per your wish.
Usually, the upper part is bigger than the lower, and the waist and hips are medium narrow.
Clothes for Trapezoid body shape
If we are talking about dressing sense for men having trapezoid body shapes, then they are ahead of game in terms of men style.
It's because they are lucky enough to do so.
T-shirt for Trapezoid body shape
Wear fitted and medium length
Vertical stripes are good for attention
There is no specific color; you can choose anything
Avoid baggy clothes
Avoid stiff or bulky fabric
Shirt for Trapezoid body shape
Dark pants and light color shirt are best combinations
You can choose any color and pattern
Make sure shirts fit well
Trouser for Trapezoid body shape
Wear trousers that are darker than shirts
Trouser leg should touch the shoes
Use regular size trouser
Avoid dropped waistband and tight pants
Avoid pants that will give an impression of long legs
Suits for trapezoid body shape
Choose a suit that has three buttons
You can choose a single or no vent suit
Don't wear suits that will give a slimmer look
Colors you can experiment
Final Thoughts
Finding the right clothes for your body shape is not difficult as it seems to be. You need some basic idea about your body shape, and most importantly you need to remember that there is no one-size-fits-all rule. It means two oval shape bodies may not look good on the same design of clothes.
Featured Image: Tó Miguéis
Become a contributor and publish your article here